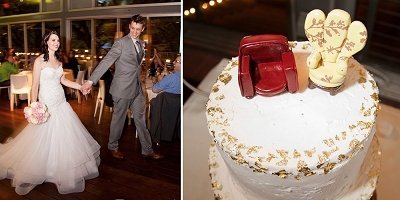 What are the BEST Disney wedding centerpieces?
Good stories are never too old to share. In this case, we're sharing Degrees North Images story of their beautiful wedding photography from "Ashley and Ty's Disney inspired wedding". But more specifically, we're sharing the theme of their wedding – of course, it's Disney. You'll choke up a little bit looking at these photos. This couple clearly loves Disney. (And be sure to go look at Degrees North Images site!)
To start, the cake toppers. So sweet and wonderful! Carl and Ellie's chairs are such a wonderful message that this couple plans on growing old together.
Each table had a Disney movie theme. Sleeping Beauty, Beauty and the Beast, Cinderella, Frozen, Peter Pan, Snow White, and The Little Mermaid. How magical and special this wedding was, not just for the happy couple, but for all of the people in attendance. Disney touches the lives of so many people, in so many different ways. Ashley and Ty obviously know how to make people happy.
MouseMingle wants to help people make magical connections like this; to bring people together who share the same love and
passion for Disney, so they can make memories like this for themselves, and their friends, and their family.