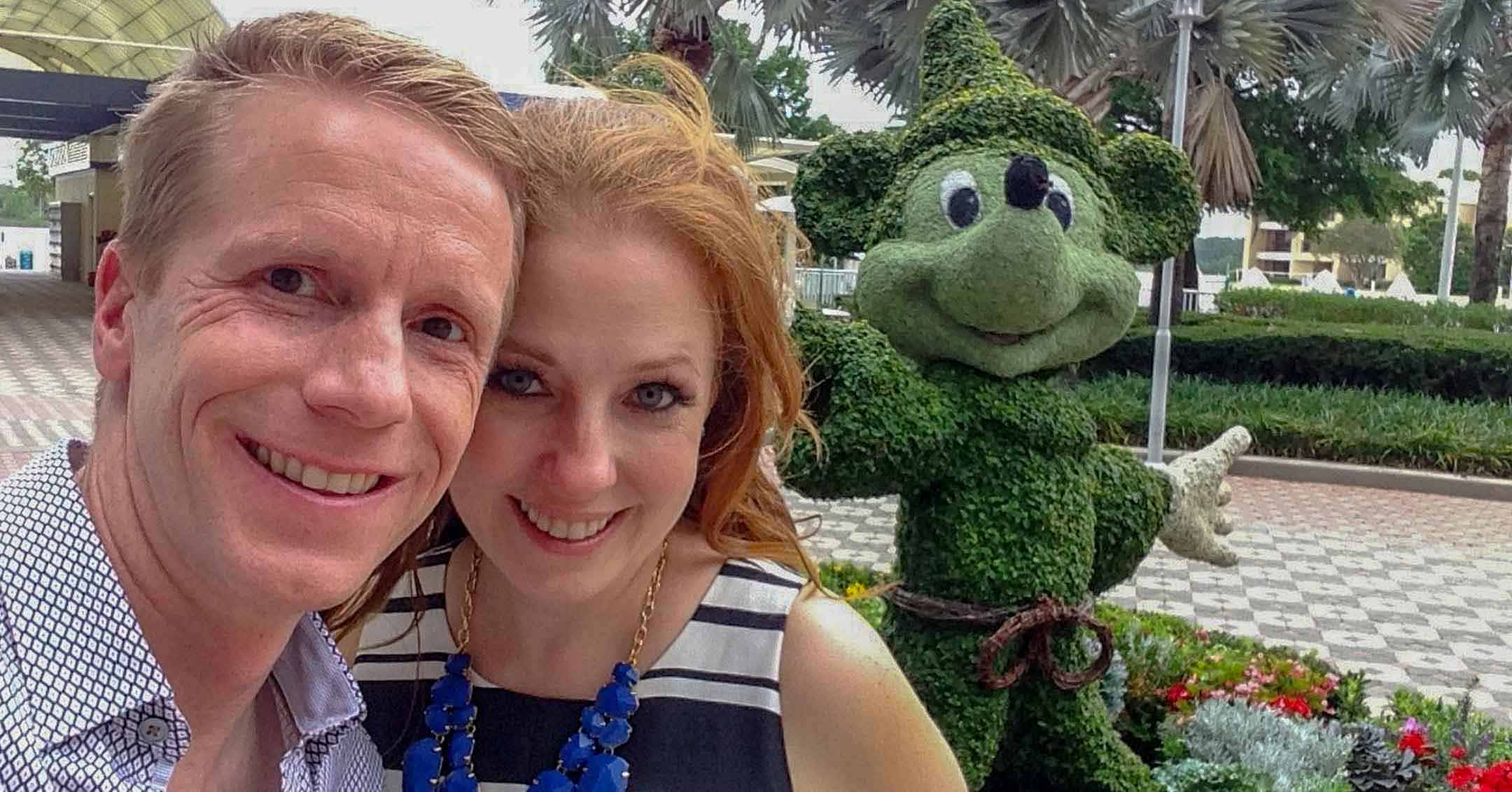 Kristina and Joe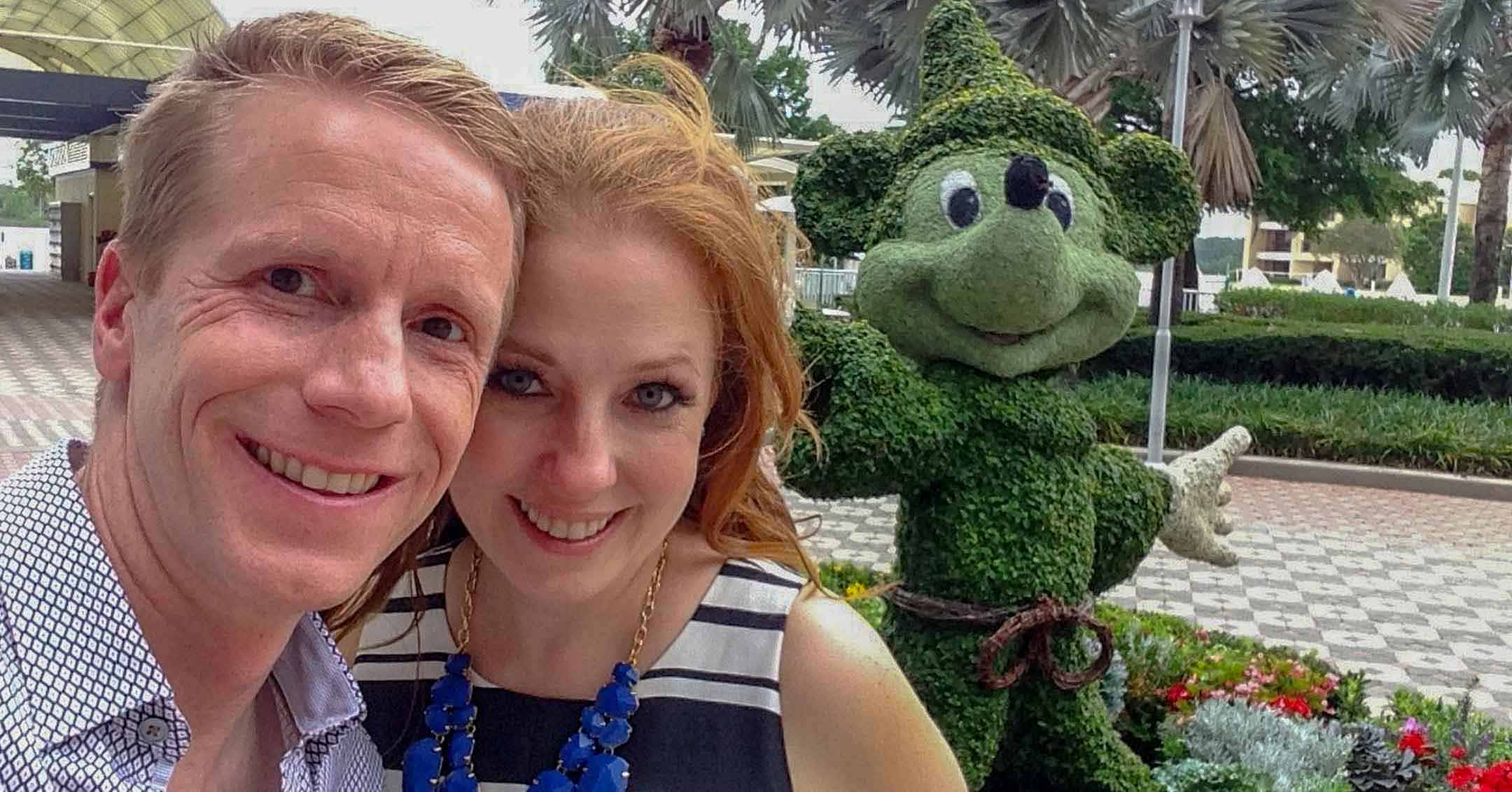 Kristina and Joe were just meant to be… their paths wouldn't have crossed if it wasn't for MouseMingle. She, a Masters of Wine candidate and wine importer in New York; he, an actual Olympic Triathlete based out of Colorado; they connected through the site because a friend of Joe's created a profile for him (his first and only online-dating experience), and Kristina was a lifelong Disney fan, so it made sense for her to join the site. Long distance Disney romances are simply magic.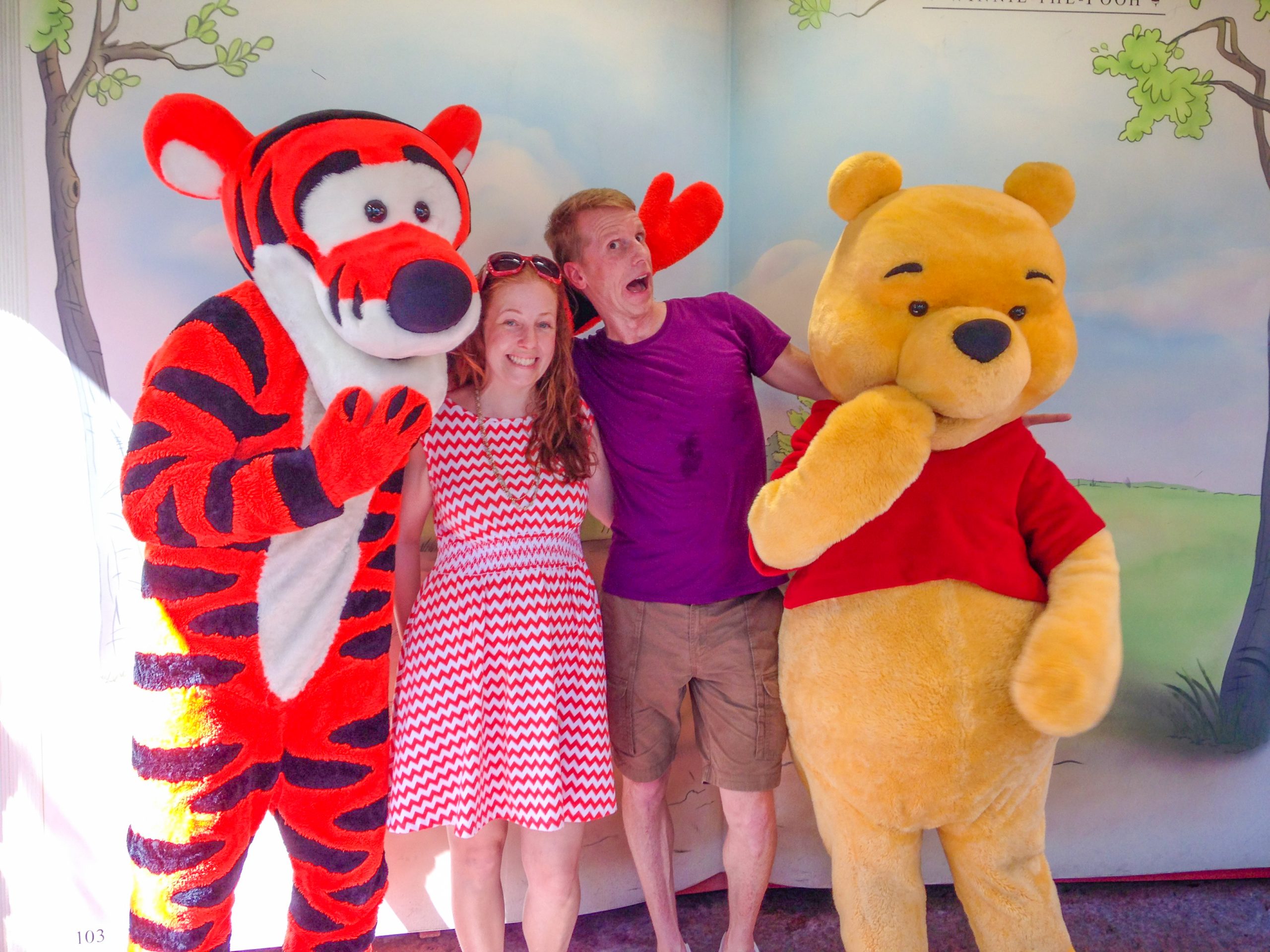 Joe spent a lifetime working out, running, bicycling, and swimming, as triathletes do. He traveled the world going from one race to another, and he loved every minute of it. Sadly, before each of the three Olympic trials he trained for, he was hit with bad luck in the form of broken bones and other minor disasters which kept him from achieving his goal to compete in the Olympic Games. But he loved it and kept working at it. He was single much of the time as an athlete, as his schedule kept him extremely busy, and traveling around the globe. His love of Disney even extended to a nickname he got many years ago of "Tigger" because he always had so much energy.
Kristina spent many, many family trips at Walt Disney World, and especially at Fort Wilderness. She loved Disney since she was small, and has wonderful memories of the Hoop-Dee-Doo Musical Revue. She fell in love with wine and with teaching others about the many differences, and that gave her a career. But she always made time for Disney.
The first wink between the two was on December 2, 2015. The wink led to a message, and the message led to more messages, which eventually turned into a first date. The last first-date for both of them.
"Hey, I saw him first!"
After sending messages back and forth, and chatting on the phone, it turned out that Kristina and Joe were both going to be in Orlando for New Years, so they decided to meet up at Disney Springs, near Walt Disney World. Joe had a simple plan of going to see the new Star Wars: Force Awakens movie, but Kristina (rightfully) suggested that they go get dinner instead, to get to know each other better. They ended up choosing Morimoto's, where Kristina showed her New York side and expertly ordered for them. In turn, Joe revealed he inner 'Tigger' and was as outgoing and friendly as always – and not just toward Kristina, but to a couple of senior ladies sitting near them who were trying to figure out a cocktail. As he chatted with them and they cheerfully chatted back, Kristina nicely intervened by saying "Hey, I saw him first!" Joe says that's when he thought "She's a keeper."
They had a wonderful dinner and conversation, and decided to wander through Disney Springs while continuing to learn about each other. Joe knew Kristina was afraid of the water, but they somehow ended up at a dock and decided to take a boat to the Port Orleans Resort. He was his charming self, and tried to make Kristina feel safe while they cruised across the lake to the Riverside dock. They spent even more time talking and sharing stories, connecting, and feeling the magic. As they walked and talked, they found themselves at the French Quarter dock, waiting for the return boat to head back. It was there by the lake, a little before midnight on New Years, where they had their first kiss.
The first date was truly special, so a second date was planned soon after. Kristina had mentioned that she had been training to do a Disney Half Marathon, and Joe being an actual triathlete who ran a lot, suggested one of his favorite places to run in Florida… Clay Trail in Clermont, which features a nice view of the Magic Kingdom at the halfway point of the nine mile run. For Joe, nine miles was nothing… but it was still something for Kristina. But she held her own, and they had a great time together. So much so, that they planned yet another date.
Over the next year-and-a-half, Kristina and Joe spent a lot of time together. Their relationship grew and they were in love. During this time, Joe made a big life change and after more than 20 years as a professional athlete, he retired his Olympic plans and decided to move on to a new career as a flight attendant, as he loved all of his years of travel. At the same time, Kristina kicked-up her studying for the Master of Wine, and they began a life together. It was on August 20th, 2017, when they planned a trip to the Polynesian Resort where Joe proposed to Kristina.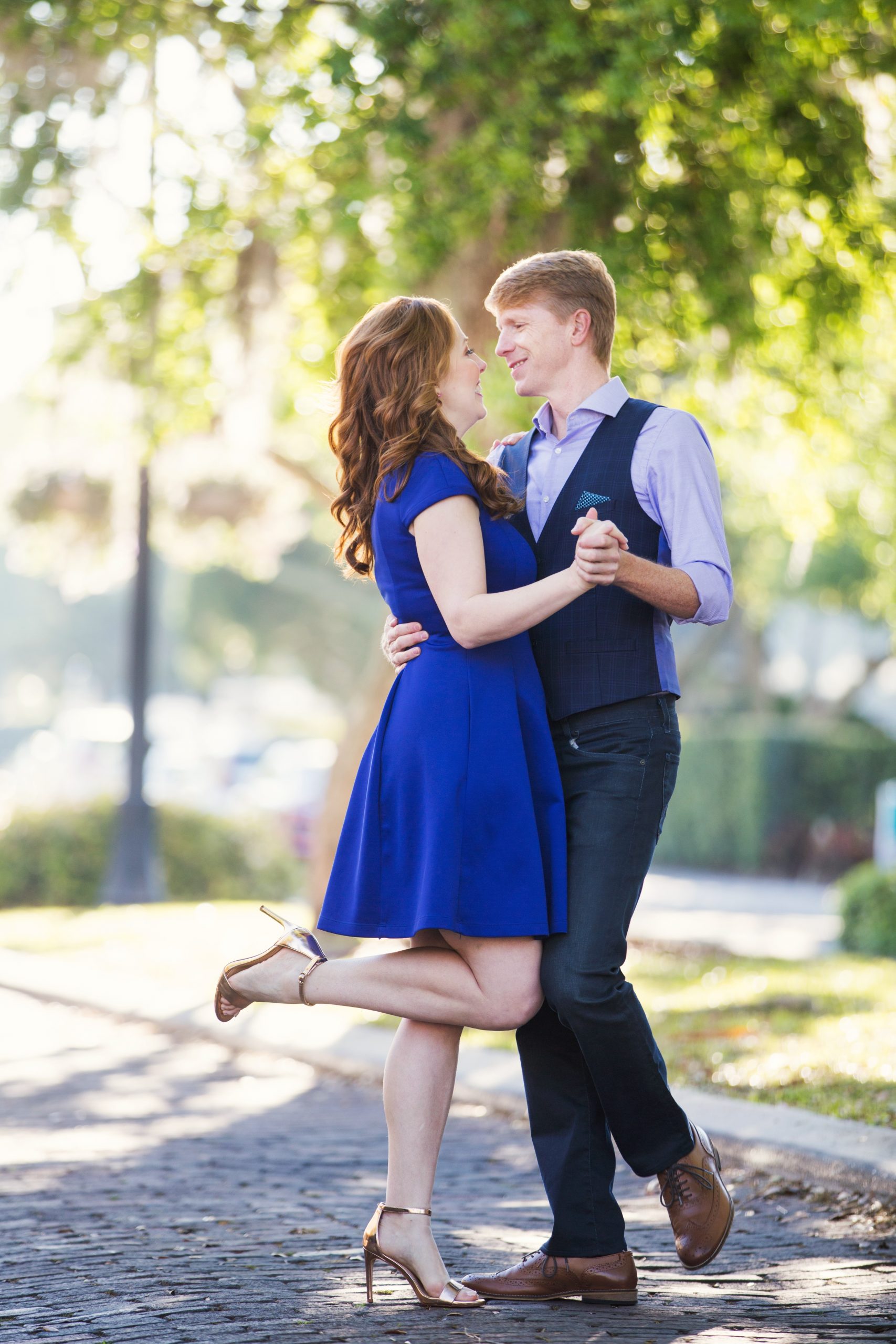 Over the months, it was clear to each other that they were going to move forward in their relationship. They enjoyed their adventures in Florida, eating good food together and drinking great wine, and many road trips. And during that time, Kristina even pointed out some favorite rings on Etsy, which Joe made mental notes of, until he finally bought one as an engagement ring… which he showed to all of the women he worked with, to get their 'professional' opinions. He knew he had the right ring, and he knew the Polynesian Resort trip was the right date, but he was still nervous. Kristina isn't a fan of having lots of lots of attention from random people at Disney, so Joe wanted to ask the big question somewhere more private. But, he also didn't want her to cry and mess up her makeup before dinner… and he didn't want to fumble and drop the ring somewhere in the dark. But his excuses – and time – were running out. As the weekend drew to a close, and they snuggled on a couch in the lobby of the Polynesian, enjoying their weekend together, Kristina gave Joe a card with their favorite Disney couple on it, Ellie and Carl. It was the perfect time for Joe to give Kristina something… so he took the ring box out of his pocket (which he'd been carrying around all weekend) and gave it to her. Joe says he honestly can't even remember what he said, but Kristina burst into tears and said yes.
On February 4th, 2019 at Paradise Cove in Orlando, Florida, Kristina and Joe were married, to formally begin their happily ever after.
The beginning…
Check out more of their photos below.
---
Update: Kristina and Joe appeared on the Tamron Hall Show. Check out the video here…