$5.55 a month forever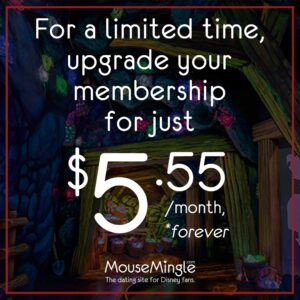 The truth is, we DON'T want you to be on MouseMingle forever – we want you to find your Mickey or Minnie… but, for a limited time, when you upgrade your MouseMingle membership, you'll get it for $5.55 per month *forever.
MouseMingle started in December 2015 and worked well for many years, but in 2021 PayPal almost succeeded in killing the site, so we made the site free until we could resolve the payment issue. Now that we've got that solved, it's time to re-focus on keeping MouseMingle safe from scammers, and to grow the site. Click here to read more about that.
(*that is, until you cancel your membership. If you upgrade again after that, it will be at the regular price.)